LAUNCHER


BOOST YOUR BUSINESS
If you own a network of distribution and you want to open new shops, to analyze the impact on the market, then your marketing department can have an easier task due to the following features of Launcher:
inserting and management of various shop-groups
displaying of shops on a GIS map and easy extraction of all the information right from the map
geocoded map with data from the last census, including info about population, buildings, commercial spaces, siruta code, all down to village-level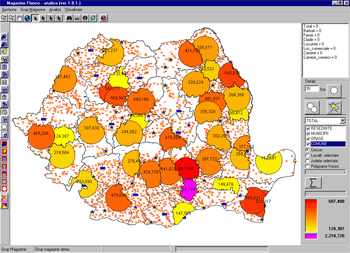 various analysis criteria of population impact as:

circular coverage for any distance
intersection of two shop areas
intersection with corresponding district
Voroni polygon generation for selected shops, which delimitates minimum distance around shops

generation of theme-maps according to chosen analysis criteria and to type of corresponding locality: city, town, village
complex generation in web format of reports of comparison between two shop-groups
spreadsheet (csv) format export of analysis
visualizations functions, sorting and printing for reports or generated theme-map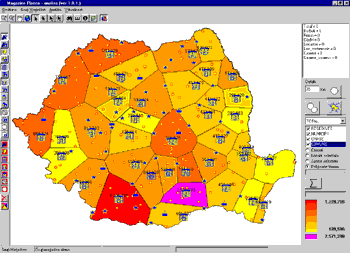 Launcher is also a great tool for your presentations and reports. Adding images created with Launcher to your strategy plans, monthly reports or to other documets make those self-explaining, replacing tens of pages of text with explanations.
Running platforms: Windows 98/Me/2000/XP/2003

METEO


TAKE THE WEATHER WITH YOU

Keep up to date with the latest weather information and forecasts, get Doppler radar animations for the latest hour and real time lightning data.
Read more...
POCKET FHM


BE THE FIRST TO KNOW

Pocket FHM is the first wireless virtual magazine in Romania. It provides fresh weekly updated content to users.
Read more... FHM Site...
TUNE UP


BE DIFFERENT! BE ON TOP!

Romanian and international music hits, sounds to get you out of the crowd, cool wallpapers - all available only with TuneUP.
Read more...