| | |
| --- | --- |
| IPSER | |
If you are already worried about the costs of polling your remote devices via CSD call (Circuit Switched Data), i.e. using a modem to get the data at 9600bps, now you can take full benefit of the new technology!
IPSer is a product which can smoothly help you switch in a matter of minutes from your traditional serial link to TCP/IP over CDMA networks. And - most important - you do not have to change your applications.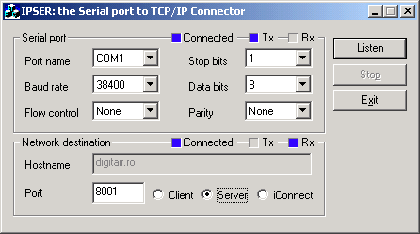 A Screenshot of IPSer
All you need is an extra COM port on your computer, and a link between the port which was previously used by the CSD modem (suppose COM1) and this new port (COM3 for example). Most CDMA modems are using USB ports - so there shouldn't be a problem to install the new device and reduce your communication costs instantly, also increasing your speed many times.
Running platforms: Windows 2000/XP/2003